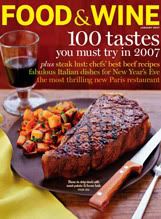 An amazing foodie-list has been published.
Food & Wine's 100 Tastes to Try in '07
can be found in the January, 2007 issue
Food and Wine Magazine
. This list describes all the new foods and wines to be on the lookout for in 2007 as well as suggested restaurants where you can find unique menu items.
My eyes kept opening wider and wider as I read some of the tasty foods! Things like Maple Flakes, a Veal-muenster Burger, Malt-ball Cake have me drooling. There are some recipes listed for some interesting original creations such as
Dan Dan Noodles
,
Bacon Baklava
,
Pea and Mint Risotto
, and
Feta Cheesecake & Wine-Poached Dates
. I am really looking forward to trying some of these.
Other observations: I guess Greek food is going to be very popular. Coming from Chicago, I have had alot of great meals in Greektown so I am familiar with most things. Microbreweries will start prodcing their products in aluminum cans. You have to travel far to eat a great meal in a fabulous restaurant.
Actually, that's the part of this list that bothers me. I don't like that they list restaurants. Not everyone can get to Melbourne for Australian wagyu rib eyes or visit Hong Kong to try scallop roe with roasted-potato ice cream. But with the use of the internet, people can find othe rare items on the list such as
Aspen Kettle Corn
,
African spices
, and
Wild Artichokes
.
A few upcoming cookbooks were also mentioned which I have already added to my wish list at Amazon.com. The
Revolutionary Chinese Cookbook
by Fuchsia Dunlop seems like it will have a lot of good recipes. Fellow food blogger Clotilde Dusoulier's
Chocolate and Zucchini: Daily Adventures in a Parisian Kitchen
was also highlighted. Many know from her popular
Chocolate and Zucchini
blog.
In order to keep track of all these fun samplings, I made the
Food & Wine's "100 Tastes to Try in 2007"
list at the
Lists of Bests
website. I have alot of fun at that site playing with all of the lists. Now you can too!